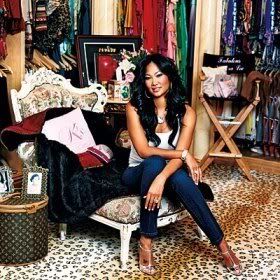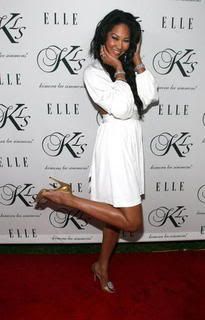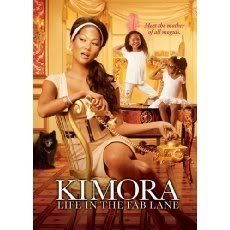 What can i say? I love Kimora and her show Life in the Fab Lane on E!. Her show is also on the Style network but i can't get that channel here in my town.
Kimora's Bio



Kimora Lee Simmons is a model-turned-designer and the star of her own Style Network reality show, Kimora: Life in the Fab Lane.

Kimora started modeling as a teenager and was quickly groomed to be a top fashion model by designer Karl Lagerfeld. Considered by many to be the designer's muse, Kimora and three other models were dubbed "the four Karlettes."

But Kimora's Cinderella story wouldn't be complete without her marriage to the "Godfather of Hip-Hop," Russell Simmons, with whom she has two daughters -- Ming Lee, 7, and Aoki Lee, 5. Eventually, Kimora became the president and creative director of premiere female hip-hop brand Baby Phat, a spinoff of Russell's Phat Farm line.

Today, Kimora's fashion empire includes clothing, shoes, fragrance, cosmetics, dolls and jewelry. Her book, Fabulosity: What It Is & How to Get It, is a how-to guide for those wishing to follow in Kimora's footsteps. In it, she shares her personal secrets of success and tells others how to empower themselves to achieve what they want in life.


Life in the Fab Lane chronicles the joyride that is Kimora's life, from managing her clothing line and the people who help her run it, to raising her daughters while trying to live life to the fullest and stay fabulous.

Couldn't find an updated bio but those that know her know that she is no longer married to Russell and is now dating the actor of Blood Diamond Djimon Hounsou

**Photo courtesy of http://blackcelebkids.com